Fine Games Domestic Shipping Rates & Practices
This page details Fine Games standard shipping methods and charges for shipments to addresses within the United States, its colonial possessions, and APO/FPO addresses. A procedure allowing you to accurately anticipate shipping charges is included. And expedited shipping methods are offered.

Our rates are built upon those of both UPS and our beloved postal service (USPS). The latest rate change occurred onJanuary 23, 2023and the UPS shortly before that.

You may download our domestic shipping rates chart in PDF format.
Shipping Methods Offered
Fine Games routinely ships orders by USPS Priority Mail (for flat rate shipments & those of ~1-4# weight) and UPS Ground services (for most shipments of 4# or more). Such service is covered by our standard shipping charge of $23.00 within the continental U.S (with some exceptions; see #2, 3 & 5 below).

Upon request, and for additional charge, we can expedite your order by shipping by any of these services: USPS Express (2 days); USPS to APO/FPO addresses; or UPS 1, 2 or 3 day. We can also ship by your specified method (USPS or UPS Ground) where we would not ordinarily do so, typically for an additional fee.

Currently, we do not ship via FedEx Ground or Air or any other courier service. We also do not deal in third-party billing. Board games are not eligible for media mail.

Meet Connie, our UPS driver during our stay in Portland. He handled thousands of our packages thru 2004 when we moved out of Portland, OR.

Yours truly, at the end of our biggest shipping day ever, 22 Dec. 2005.

It was a busy day. And also the beginning of a vacation.

One our (many) recent postal carriers picking up during one of our busier days of December 2013. Keenly attended by my dog, Smokie
Standard Shipping Charges
Fine Games uses a simple, flat rate shipping rate system. This allows you to easily, intuitively anticipate the shipping charge for any assortment of items you may be interested in.

The rules are these:

The standard shipping charge is $23.00 per shipment. This includes Priority Mail or UPS Ground shipping within the continental US, using the service of our choice based on weight such that it minimizes our shipping costs.

Bulky or weighty items are surcharged +$4.00 per item in addition to the standard amount above. Our catalogs indicate bulky items with a "LB" (Long Box type). Weighty items, those weighing 3.0# or more, are indicated with an asterisk "*" beside the box type code. Also, "Giant Boxed" ("GB" box type) are surcharged + $7.50 per item in addition to that standard shipping, reflecting the massive size & weight of such items. These are huge or very weighty (5# or more) games. (We call them "obnoxious.") (There are a small number of even bigger games, such as War in the Pacific 2nd and Ogre Designers, that are so huge & weighty that these are quoted by game; these are Huge "HG" boxed games.)

Shipments to rural zip codes are surcharged+$5.00 per order. If your package is such that it will be shipped via UPS, and your destination zip code is one that UPS defines a "rural", your order is subject to this surcharge. (If UPS says your zip is extended rural, then the surcharge is+$8.00 per order; and beginning in 2022, if even more rural, a surcharge of +$18.00 apply in the 48 states & more in AK & HI.)

Up to 5 flat, UNboxed items can be shipped for $11.00 total. ALL items must have a box type of "n", "zl", or "Fo", fit in a flat rate Priority Mail envelope and weigh no more than 4# collectively when shipped. In most cases, any 5 unboxed items will meet this condition. (See the Key to Codes page for an explanation of box types, and which are boxed or unboxed.) Note: some unboxed items are too large or bulky to fit in a flat rate mailer, or must be sent in a tube, and thus do not qualify. (We will add any number of PARTS that fit for free.)

One boxed game, up to two flat & unboxed items and as many game parts as will fit can ship together in a Priority Mail Medium Flat Rate box for a total shipping price of $23.00. They simply must fit within the box comfortably.

Boxed shipments of multiple games with a total weight of more than 3 lbs to Alaska, Hawaii, any of the U.S.'s colonial possessions (such as Guam and Puerto Rico), and APO/FPO shipments, generally do not qualify for standard shipping rates as they must be shipped via weight-based USPS Priority Mail.. Instead, such shipments are charged on a per-pound basis. This is anything but a straight forward matter; it depends upon what you order and whether we can ship in a priority mail box cost-effectively. We encourage you to contact us; we will quote you the best available price based on your order's contents.
How to Calculate the Shipping Charge for Your Order
Use this procedure to learn how to anticipate standard, ground shipping charges for any bundle of games you might wish to order. After a few tries, shipping costs will be self-evident to you (we hope).
If you're ordering 5 or fewer qualifying items (see #4 above) AND none are boxed (i.e. all have a "n", "zl" or "Fo" box type), then shipping is $11.00 total. You're done. If you have only one such unboxed item, then the total is instead $9.00.

Otherwise, count up (1) the total number of items ordered, (2) the number of items with a LB box type and/or an asterisk ("*") beside the box type (these are surcharged+$4.00each), and (3) the number of items with a "GB" box type with asterisks; these are surcharged+ $7.50each. Add up any such surcharges. (If you're ordering any game with a "HB" (huge box) type you will need to contact us for a quote due to item size & weight.)

Standard shipping is $23.00. Add to this the total of box surchages determined in step 2.. This is the total for shipping. Most orders do not have any LB or asterisked items, so shipping would simply be $23.00.

Example: An order of 5 games including 1 heavy item weighing 6 pounds and 1 LBoxed item would be charged $34.50 shipping (calculated as $23.00 base rate+ $7.50 for the 6# game and+$4.00 for the LB boxed game).

If UPS defines your destination zip code as "rural", add +$5.00 to the order shipping total. If your zip is extended rural, add +$8.00, and if your even more rural, add +$18.00. ("Remote" zips in HI & AK add much more.) This is now the final order total. And yes, the days of cheap oil are long gone.

We can instantly tell you how your zip code fares. But to check how UPS regards your zip code, see UPS's listing of Surcharged Zip Codes (XLS format). UPS has been rather aggressive in adding zip codes to this list since it was introduced in 2000. Over 51,000 zips are now surcharged for being "rural." Our own zip code is itself within a surcharged area despite being in a town of 25,000.


Any shipment that is expedited, or that must be shipped via a method more costly than what we normally use (such as shipments to APO/FPO and non-continental US addresses which weigh 4# or more) are charged based on actual shipping weight. Standard shipping rates do not apply in this case. See APO or Expedited Shipment for rate info.
Expedited Shipping Methods & Charges
Upon request, we can speed up delivery of your order by using an expedited shipping method. All of these options are charged based on shipping weight, and are quoted per the specific order. Please make us aware of any special need you have for a delivery deadline or method.
We recommend you email or phone us to discuss your specific needs. Realize that most options will substantially increase the shipping charge you pay compared to our standard shipping charge. Based on your needs, we'll recommend the best service under the circumstances from among these options:

USPS Priority Mail - 2-3 day; see rate chart below. (For APO/FPO times, see below.)

USPS Express Mail - 2 day, relatively inexpensive compared to UPS but of marginal benefit since Priority delivers in 2-3 days.

UPS Red - 1 day, order must be placed by 1pm PST; expensive.

UPS Blue - 2 day; moderately expensive.

UPS Yellow - 3 day; more than ground, but of little to no benefit since Priority Mail is just as fast..
Download our domestic shipping rate structure (pdf). The weight-based rates cited apply only when we must use a specific service at your request that is more costly than what our default service might be (and to shipping for any of our Liquidation or Clearance Sales). Remember, our standard flat charge for most orders is $23.00 regardless of the weight of the total order. But if you require that an order we would ship cost-effectively via UPS be sent instead via USPS Priority Mail, you'll pay based on weight and the chart below -- and it will often be more, much more. We always advise you of your options and the trade-offs involved.
Fine Games' Domestic Shipping Options & Rates

effectiveJanuary 23, 2023

Shipping Weight
First Class Rates
Priority Mail Rates (domestic & APO)
Express Mail Rates
Delivery Timeframe
~ 4-7 Days
~ 2-3 Days
~2 Days;

order must arrive by 11am PST

Flat Rate Envelope
n/a
1 item: $9.00
2+ items: $11.00
$29.50
Flat Rate Box
n/a
1 Item: $17.00 2+ Items: $23.00
n/a
1 Pounds
$8.00(< 15.9oz)
$17.00
$46.85
2
n/a
$17.00
$52.74
3
n/a
$21.17
$58.13
4
n/a
$24.13
$64.46
5
n/a
$27.24
$70.88
6
n/a
$35.19
Contact us directly for rates, timing and other cricitcal details
7
n/a
$38.86
8
n/a
$42.64
9
n/a
$46.41
10
n/a
$50.26
Our prices for USPS Shipping, based onJanuary 23, 2023postal rates, last revised 11 Sept 2023
Shipment Delivery Times
We advise you of both when we expect to ship your order, and how long it will take to reach you, as part of our routine of acknowledging all phone and emailed orders. We will contact you in the exceptional circumstance where shipment will be delayed significantly.

In additional, all shipments by UPS or USPS priority are acknowledged by email on the day of mailing by the carrier. This acknowledgement will include tracking info and estimated date of arrival.

In general, USPS Priority Mail takes 2 days to most people in the US, 3 days to rural areas and US colonial possessions, and 7-14 days to APO/FPO or remote Alaskan addresses. (See below for more specifics on APO/FPO delivery.)

In general, UPS takes 5-7 business days to reach the east coast, 4 days to reach the mid-west, 3 days to reach southern California and the Rocky Mtns, and 1-2 days to reach most of the western U.S.. The map below provides a good idea of transit time via UPS Ground to you.

Delivery Time to Your Door, Shipped via UPS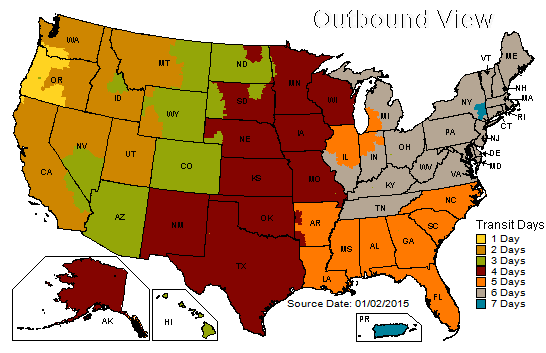 Other Shipping Surcharges
There are a few other shipping-related charges you should be aware of and, hopefully, avoid.

If the address information you provide is incomplete or inaccurate, or you redirect delivery to another address, UPS imposes an address correction surcharge which will be passed on to you. This is $22.00 (plus cost of return shipping if applicable) for ground shipments, even more for air (1, 2 or 3 day). Please tell us where to deliver the package when you place your order.

UPS imposes a surcharge on each shipment to most rural zip codes. We pass this along to those customers shipping to such a zip code by surcharging your order +$5.00 (o r +$8.00 or +$18.00 for very rural areas).

UPS also imposes a+$5.25 per shipment surcharge on every package delivered to a residence. We currently include that in our stated shipping charge; i.e. there is no extra charge for this. But you can help us keep shipping costs and rates down by arranging delivery to a business address where convenient.
APO/FPO Delivery Times & Restrictions
For most purposes, packages sent to APO or FPO military addresses are treated like any other domestic package. There are three differences to be aware of, however. First, all such packages must travel via the USPS postal system rather than UPS; thus, shipping charges for larger packages will be weight-based and will be more than our standard fixed domestic shipping charge. Further, all such packages must bear a customs declaration. Third, your APO address must pass verification with the USPS; if it does not, we have no resources to correct an address unlike most domestic addresses.

Finally, priority mail delivery times are predicated upon the delivery location:

Zip codes 090xx-092xx and 094xx-099xx are to Europe and require 7-10 days.

ZIp codes 093xx are to sunny Iraq & Afghanistan & the Middle East and require 7-14 days.

Zip codes 962xx-966xx are to Japan, Korea, the Pacific or the Far East and require 7-10 days.

Zip codes of 340xx are to the Americas and require 7-10 days.